If your hectic lifestyle/shamless laziness/lack of budgetting skills have meant that mothers day has completely eluded you then there is still hope! (Not much though....)
Mum, If you are reading this please don't get any wild ideas. I have pre-ordered you a copy of Silent Descent's New album for your present :)
Budget - Splashing Out a Touch
Really if you have no budget you should be chartering a helicopter to the nearest Godiva store and buying all stock...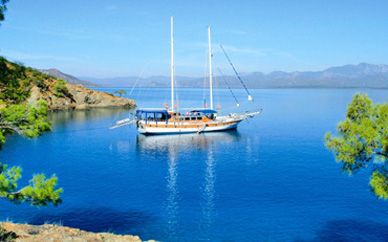 Mini Break Ideas
Voyage Prive offers LOADS of great luxury holiday deals in cute boutique hotels and really gorgeous locations where you can expect better service and less tourists!
Current deals include Tiger visits in India, a City Break in Barcelona and a mini culture tour in Florence!

Deals are flexible and most can either be a weekend or a week - you can use their flights or book your own - it's a great way to find a quality holiday quickly!
View Deals Now
Godiva Chocolate is divine and a hamper is the ultimate chocolate luxury! Ranging from £74 to around £170 you can gift a fantastic range of chocolate goodies.
Another impressive foodie idea (for those buying for mothers-in-law) is a Harrods hamper. A generation that believed Harrods was the ultimate dream will appreciate a true english hamper experience such as 'The Sloane' hamper. Tea, champagne, biscuits and all wrapped up with a bow!
Alrite, it's pretencious as shit but if you want to flash your cash and remind your mother in law that you're treating her little prince like a king then this is the way to go. Brown Nose....
Shop now!
Budget - Strapped for Cash
For designer deals and discounted trendy homeware look no further than Brand Alley. With a huge range of Private flash sales as well as discounted brands all year round its the perfect place to pick up a quick gift (although delivery is £4.95 as standard). Current sales include 'Home Boutique' which has discounts on brands such as Designers Guild and Jasper Conran.
The Best Bit about Brand Alley is that NO ONE HAS TO KNOW that you are being stingey!! If it's designer.... It's acceptable! Also, expensive postage means you have to make the most of it so pick up a few designer bargains for yourself too....
Shop Now!
A really amazing chocolate brand that I discovered a while ago is Lily O'Briens. Absolutely gorgeous, rich chocolates with lovely packaging and unique ideas from Ireland. Prices vary but are very reasonable and less generic than whizzing to Thorntons. Even if they arrive late - these are highly appreciated!

I'd like to take this moment to mention that it is my Birthday coming up and although I am avoiding all things food at the moment I will happily take these and smother myself in the chocolatey goodness before wolfing the rest down - box et al.
A nice day at the Spa for two is a really lovely way to celebrate Mother's Day and one of the best sites for getting cheeky 2-4-1 deals and finding new exciting treatments is Wahanda! Look up some of their cool deals such as Hydrotherm massages from £20 or a Mum's special spa day from £55.

If you and your mother are the 'sharing' types then you can go for a whackier treatment of 'laser hair removal' or do a gruelling, coma inducing boot camp!
Shop Deals Now
I hope this has helped those of you who are as useless as me...
Jemima Daisy